Hey Guys! Today is the day, contest time! I'm celebrating my 100th post, which is today! I never thought that I would make it this far! What a journey I've had. But, I'm not stopping today, folks!
As voted on before, the theme is photography! Anyway, lets's get this party started!
There are two

categories-
- Person-
- Not Person
Here are the rules-
Entries will be accepted starting today until

Friday, December 19, 2014

at 8am(CST)
Entries can be submitted via a blog post. Email the link to your post via my contact form at the bottom of my blog or leave a comment with the direct link to your entry.
Your first name is required.
The picture must be taken by YOU.
The picture must be family friendly. Anything that is not, will be eliminated.
The winner will be posted on my blog on Monday, December 15, 2014, sometime before noon (CST).
Entries will be judged by myself and my mom. With a little help from some siblings :)
Winner gets-
A blog post here at A Curious Pisces showcasing your site.
Your blog button on my sidebar until January 1, 2015.
A button for your blog that will displayed your winning photo!
Please note: Your photo will only be used in regards to this contest. I will not use it for any other use. If you have any questions regarding the contest, please email my mom: erin@ourtableforseven.com with the subject line: A Curious Pisces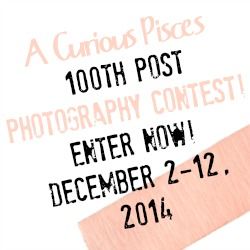 Grab this button and put it on your blog sidebar to tell your followers! Now, have fun!
X
- June